Year 6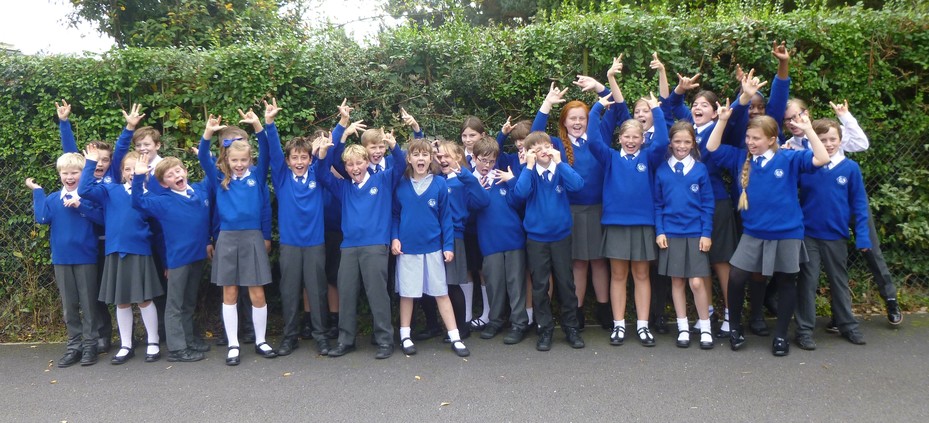 We are a hardworking class of 27 who will be exploring a number of exciting topics across this academic year. Our teachers are Mrs Cox (Monday-Wednesday) and Mrs Ross (Thursday and Friday). Our teaching assistants are Mrs Clark and Miss Pridden.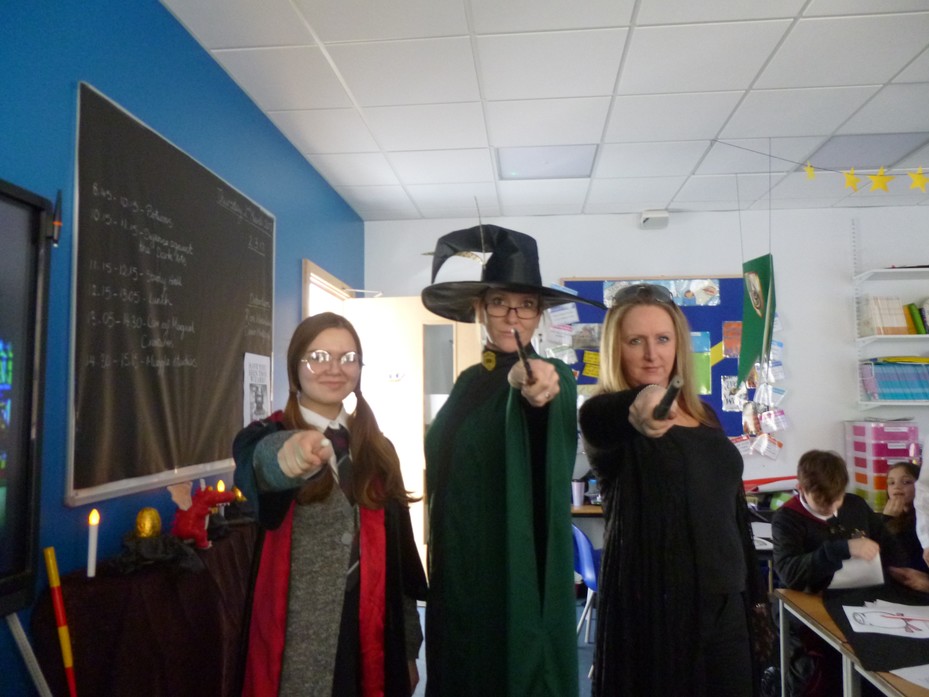 IMPORTANT DATES: Wednesday 12th July 9.30am - Informal Summer Concert
Wednesday 12th July 2.00pm - Yr 6 Leavers' BBQ and pool party
Thursday 13th July 4.00pm - Celebration Evening
Thursday 20th July 2.30pm - Yr 6 Leavers' assembly (at school)
Friday 21st July 9.30am - Yr 6 Leavers' Service (at church)
Friday 21st July 1.30pm - Break up for summer holiday
Well here we go Year 6, our last half term together! Let's have as much fun as we can whilst making sure we are all ready for the move to Secondary school.
We started back with a bang, getting stuck into our writing using exciting pictures and film clips to inspire us. We will continue with our Magna Carta topic, researching and investigating key events, people and details. We will also develop our map skills in Geography and are looking forward to planning our own mini 'Duke of Edinburgh' expedition around Chobham using OS maps and compasses!
WEDNESDAY 28TH JUNE 3.15pm: SRE resources on display for parents to see. If you would like to chat to Mrs Cox about the content of this half term's SRE lessons, please come along.
REMEMBER that swimming begins this week: Monday for Group 1 and Thursday for Groups 2 and 3. Make sure you have your swimming kit at school on these days: suitable trunks or swimsuit (no bikinis), hat, goggles and towel all in a drawstring bag.(Swimming will replace the children's indoor PE session.)
WORK OF THE WEEK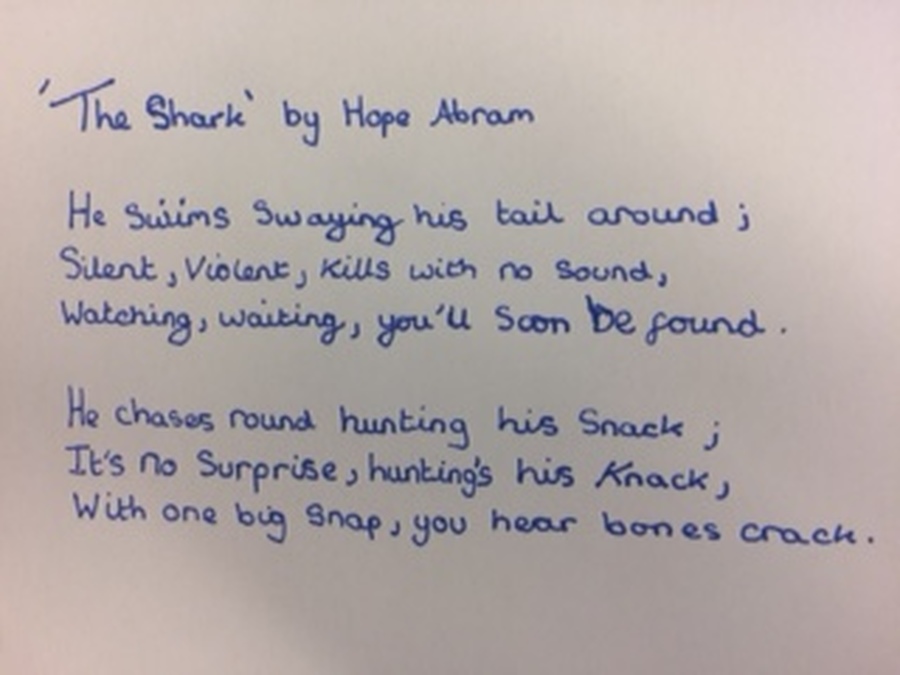 Well done to Hope A! Your poem about a shark was incredibly descriptive. Based on Alfred, Lord Tennyson's poem 'The Eagle', you wrote your poem using the same meter and rhyme and with the same number of stanzas. Reading it sent chills down my spine; fantastic work Hope.
23/06/17
Well done to the following pupils for being elected House Captains for the Summer term:
Elfine and Zoe
Robin and Lucy
Jack and Lillyella
Madi and Alice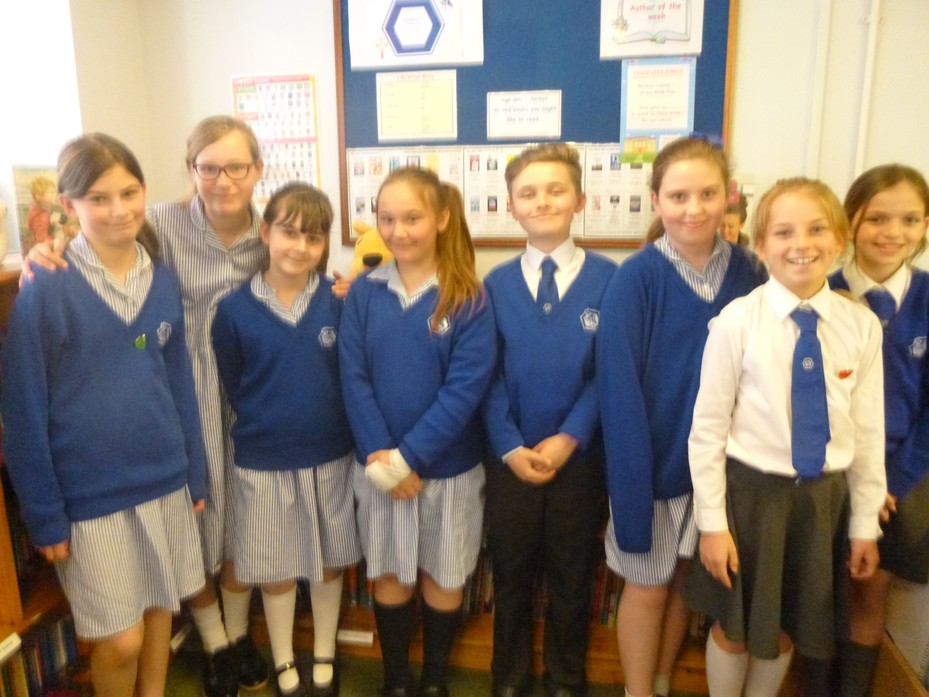 In addition to House Captains, our Year 6 students have been nominated for our new Sports Captain role. The following pupils have been elected: Evan, Keira and Adam.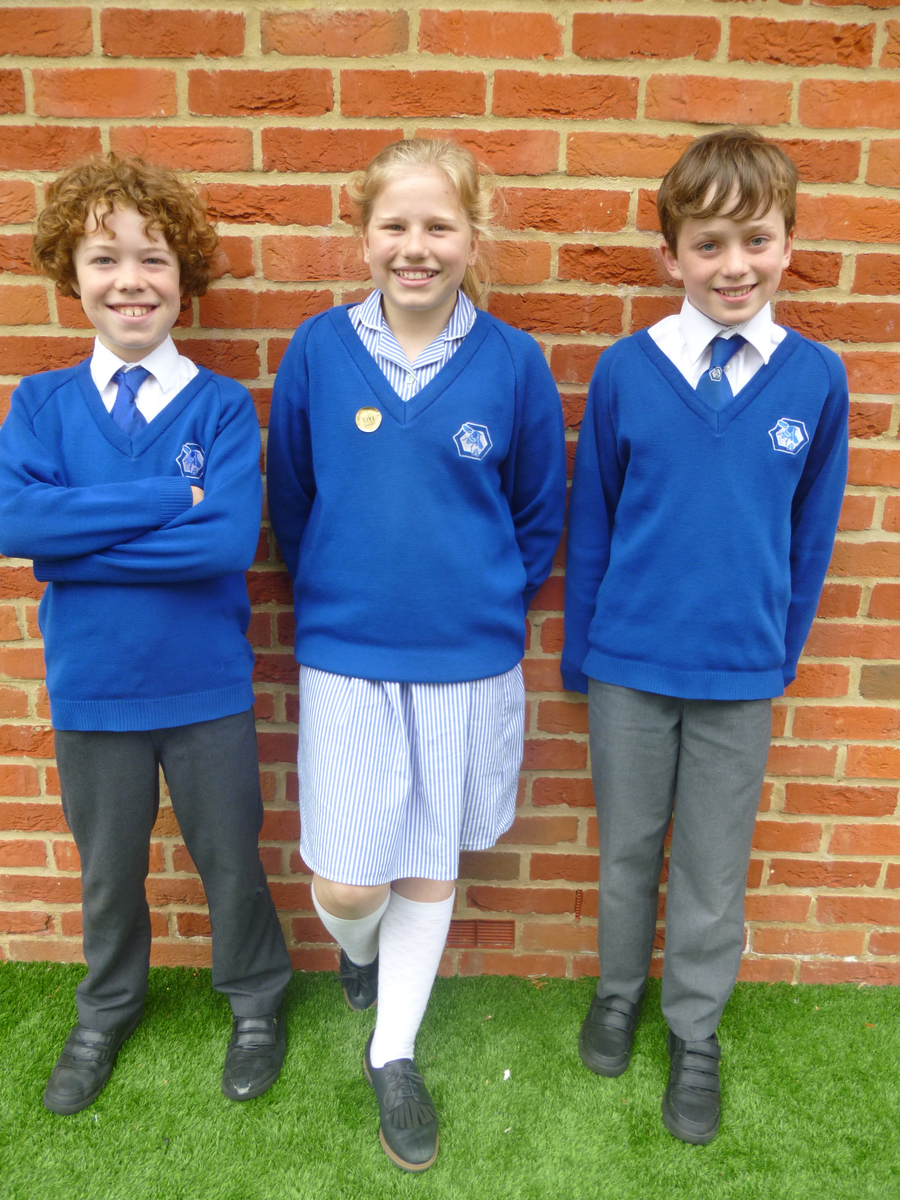 Year 6 spent a fun lesson in our newly refurbished ICT suite. We worked together on the brand new laptops and were extremely comfortable on the new furniture! Thank you FOSL for donating the funds to contribute towards this.
IMPORTANT INFORMATION:
This year we will be studying the following curriculum:
Autumn: we start our adventure with our topic 'From the ashes of Ancient Greece to the heavens above' where we will be exploring the wonders of ancient and modern Greece and reading the fantastic fantasy novel, Skellig, by David Almond. Skellig is an award winning novel which has won both the Whitbread Children's Book of the Year and the Carnegie Medal from the Library Association. Later on, we will look at healthy living and the heart using our book Pig Heart Boy. We will consider the debate around organ donation and learn how this vital organ works and is structured.
Spring: our topic is River deep, Mountain high – The rise of the Islamic empire. We will look at the rise of power in the Islamic empire and study their historic cultural, scientific and artistic accomplishments. We will compare this to the contemporary story of Boy Overboard; the tale of an Afghan Child refugee's journey to Australia. We will also look at the religion of Islam and compare it to our Christian faith and beliefs. In Geography, we will explore the mountains of Greece and the wider world.
Summer: Our topic is 'The spark of modern life and politics'. We will consider how Magna Carta changed the face of British politics and explore how electrons flow through electrical circuits. Furthermore, we will investigate the animal life within our school grounds and consider how to classify what we find then replicate some of our discoveries in our very own cam toys.
In addition, It will be very exciting taking on the additional responsibilities that Year 6 pupils are given: House Captains, assembly set-up and being responsible for the audio equipment and PowerPoint in assemblies. We will be very proud of being given such responsibilities and will endeavour to be the best of role models.
Weekly Diary:
Monday:
Swimming (Group 1)
Spelling Homework given
Maths homework to be handed in
Tuesday:
SPaG homework given out
Wednesday:
Outdoor Games
Thursday:
Swimming (Groups 2 and 3)
SPaG homework to be handed in
Times table test
Friday:
Spelling test
Maths homework given out
We Loved World Book Day this year. Dressing up as our favourite J.K. Rowling characters was brilliant and we really enjoyed moving around the school, visiting the themed classrooms. Our favourite was definitely the Year 4 'Space' theme.