We are a hardworking class of 29 who will be exploring a number of exciting topics across this academic year. Our teachers are Mrs Cox (Monday-Wednesday) and Mrs Ross (Thursday and Friday). We are lucky enough to have a trainee teacher this year who is undertaking the Surrey South Farnham SCITT Program - Mr Clark. Our teaching assistant is Mrs Clark.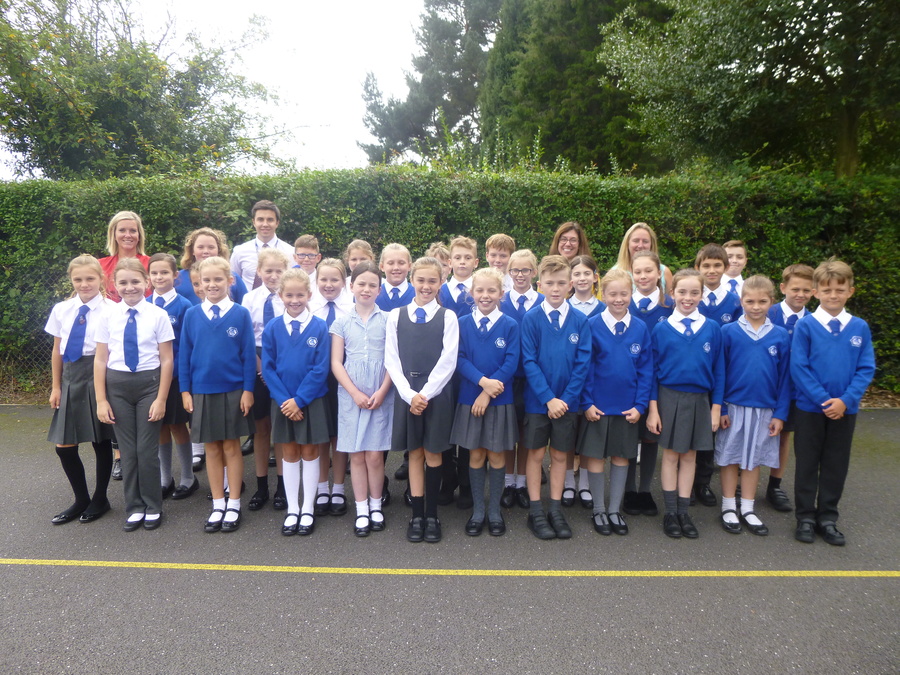 IMPORTANT DATES:
Monday 16th Friday 20th October - Residential Trip to CYE
Friday 20th October - FINISH FOR HALF TERM
Monday 30th October - Return to school
Tuesday 31st October - Secondary School application deadline
Welcome back to school! We hope you had a wonderful summer holiday are ready for the final year of Primary School.
We started back with a bang, getting stuck into our writing using this term's class novel, 'Journey to the River Sea' by Eva Ibbotson. We will be studying 'The Americas' in our topic this term with a particular focus on The Amazon Rainforest and Brazil.
We are excited about our Maths Mastery learning in year 6, exploring numbers and explaining our thinking.
And of course, we cannot wait to take the class to Chichester harbour for our CYE residential trip aboard the TS Resolute.
REMEMBER that swimming begins this week: Every TUESDAY for all groups. Make sure you have your swimming kit at school on these days: suitable trunks or swimsuit (no bikinis), hat, goggles and towel all in a drawstring bag.(Swimming will replace the children's indoor PE session.)
WORK OF THE WEEK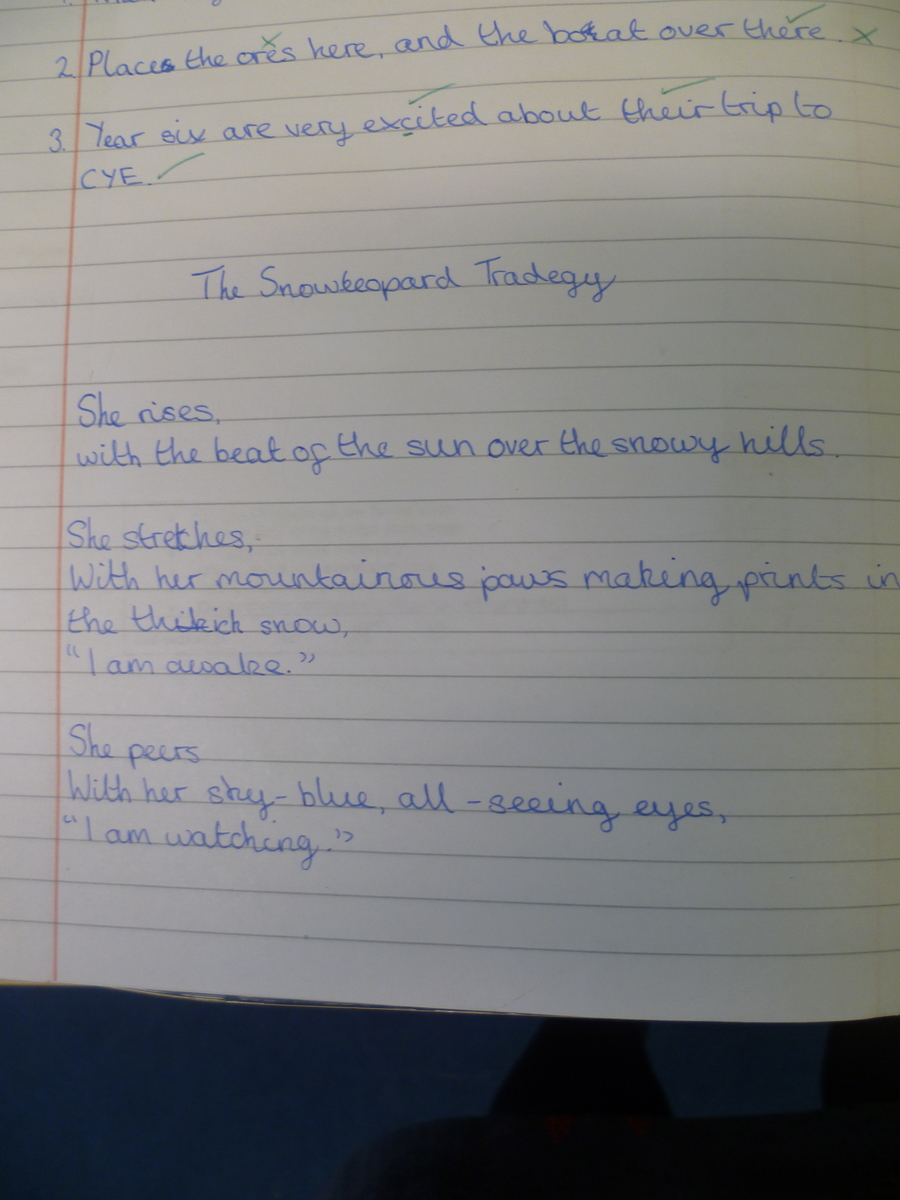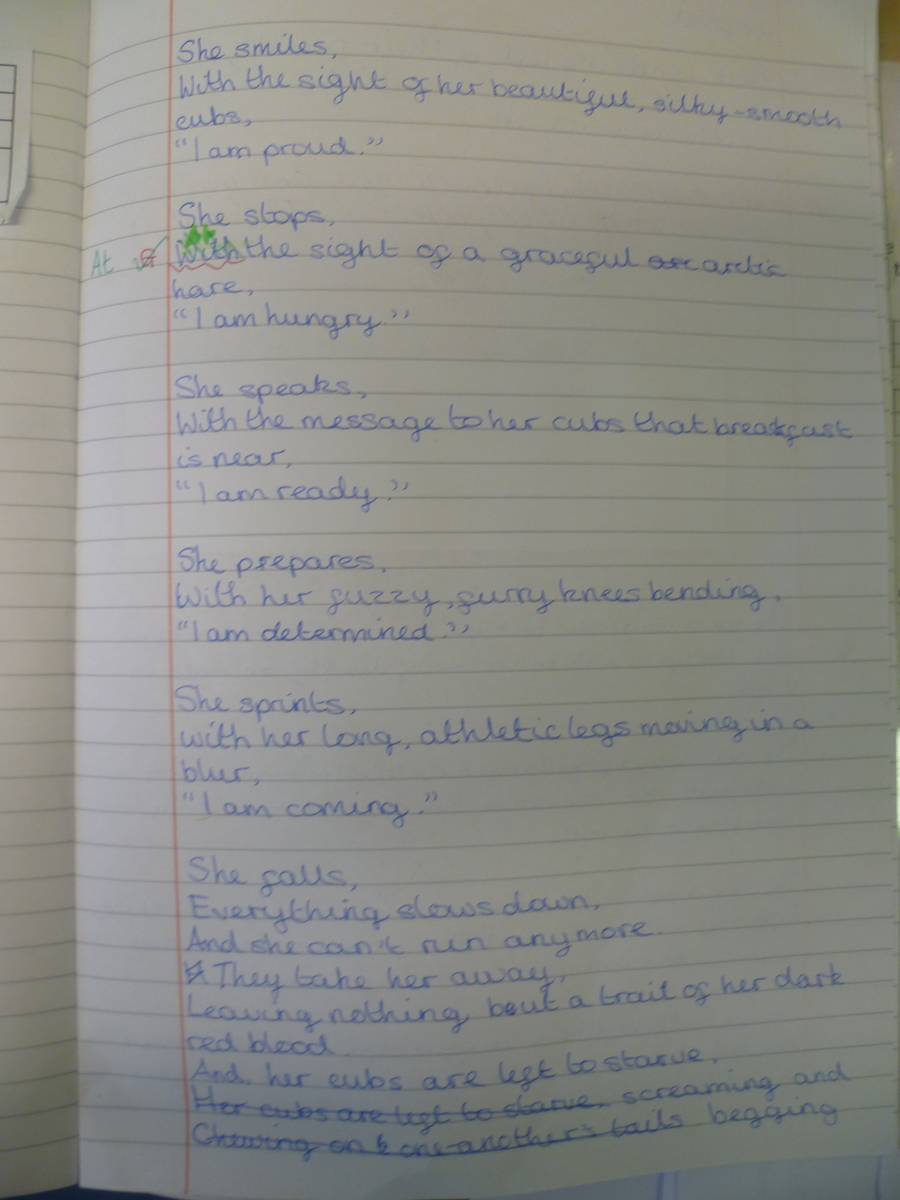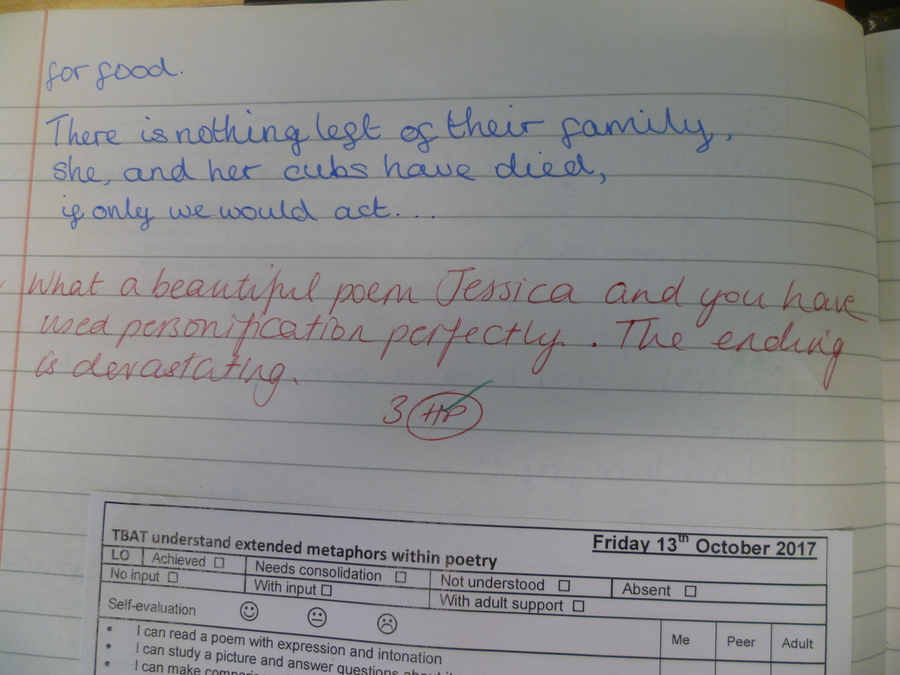 Well done to Jessica H ! Your poem about a snow leopard was amazing. You used personification beautifully to hook the reader and then devastated us at the end with your message about endangered animals! Very well done.
13/10/17
Well done to the following pupils for being elected House Captains for the Autumn term 2017:
Isabel and Marley
Annabelle and Caitlin
Keira-Nell and Ellie
Elishka and Sophie
SCHOOL COUNCIL
In Year 6, 4 students are chosen to be on the school council and they have much more responsibility than in previous years. Very well done to Sophie, Dylan, Isabel and Elishka who are going to be doing the job for us this year.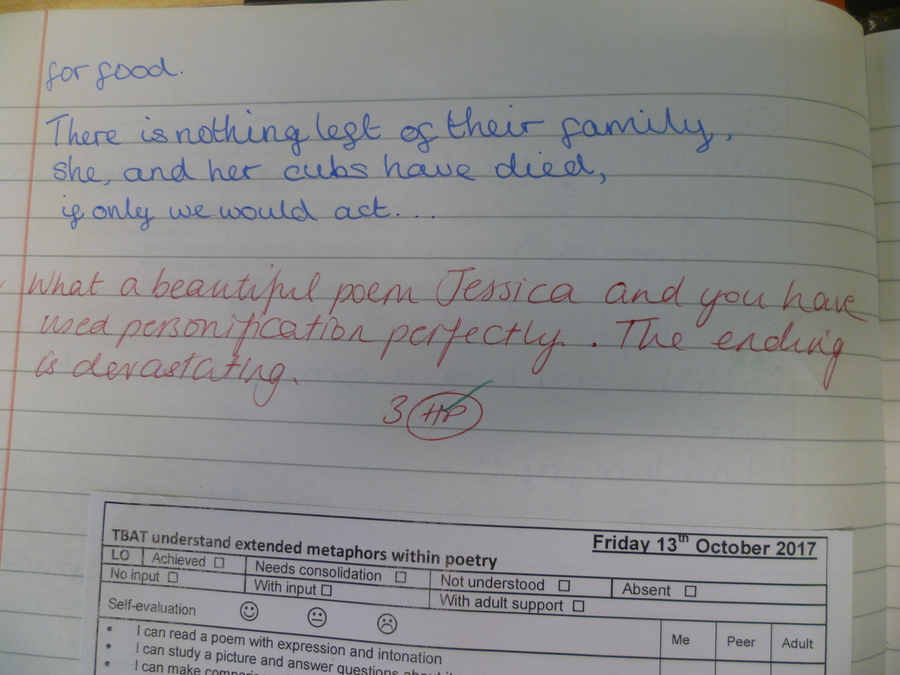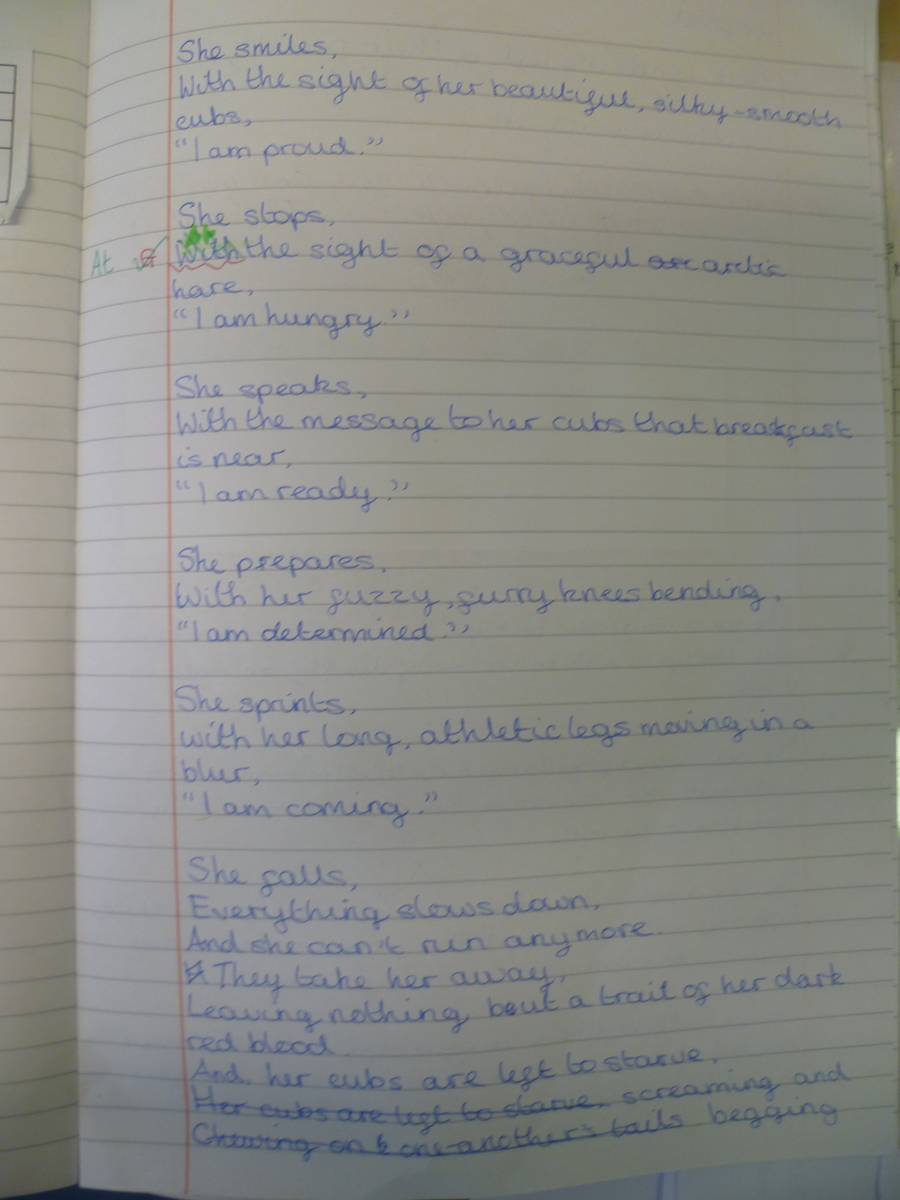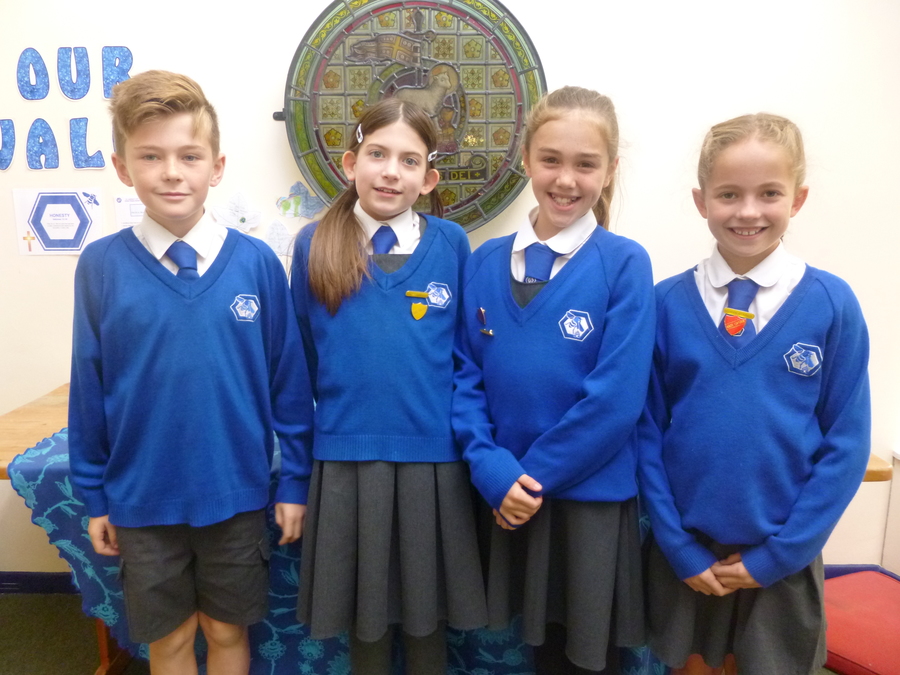 On Friday 29th September, Year 6 were lucky enough to perform in the Chobham Proms. This year we were working with an African drummer named Kwame who came to school and led us in a drumming workshop. We listened to African music and performed alongside it.
The Proms took place in St Lawrence Church and we performed with 3 other schools: Valley End, Coworth-Flexlands and Gordon's. We were led by the fantastic Maggie Guilfoyle and would like to thank her for the wonderful opportunity.
IMPORTANT INFORMATION:
This year we will be studying the following curriculum:
Autumn: we start our adventure with our topic 'The Americas' where we will be exploring the wonders of South America with a particular focus on the Amazon Rainforest. Our class novel will be 'Journey to the River Sea'. We will then read the fantastic fantasy novel, Skellig, by David Almond. Skellig is an award winning novel which has won both the Whitbread Children's Book of the Year and the Carnegie Medal from the Library Association. Later on, we will look at healthy living and the heart using our book Pig Heart Boy. We will consider the debate around organ donation and learn how this vital organ works and is structured.
Spring: our topic is The Circulatory and Healthy Lifestyles. We will study these areas of the human body through both our Science and English curriculums, using Malorie Blackman's fantastic novel Pig Heart Boy'. We will debate the ethics of organ donation and carry out our on pig heart dissection!
Our Humanities topic is the changes in Britain from the Stone to Iron age. We will carry out more map skills, including studying Ordnance Survey maps.
Summer: our topic is World War 2, with particular focus on The Battle of Britain. We will look at the impact this event had on Britain during the war and how it impacted on Chobham too. We will read the novel 'Once' by Morris Gleitzman to bring other aspects of WW2 alive to the children.
We will also study Electricity, making our own models with working circuits, and Evolution.
Weekly Diary:
Monday:
Spelling Homework given
Spelling Test
Maths homework to be handed in
Mathletics homework set
Tuesday:
Swimming - all groups
SPaG homework given out
Wednesday:
Outdoor Games
Thursday:
SPaG homework to be handed in
Maths homework given
Times table test
Friday:
Reading homework given
We Loved World Book Day this year. Dressing up as our favourite J.K. Rowling characters was brilliant and we really enjoyed moving around the school, visiting the themed classrooms. Our favourite was definitely the Year 4 'Space' theme.